Westaro Hosing Ltd supply a Combo Hose Stand around Ireland.The stands are available in hardware shops and farming co–ops. We supply three main types of hoses on this stand:1) NTS White Plus Technology, 2) Industrial Technical Hose, 3) Refittex Gas Din 4815.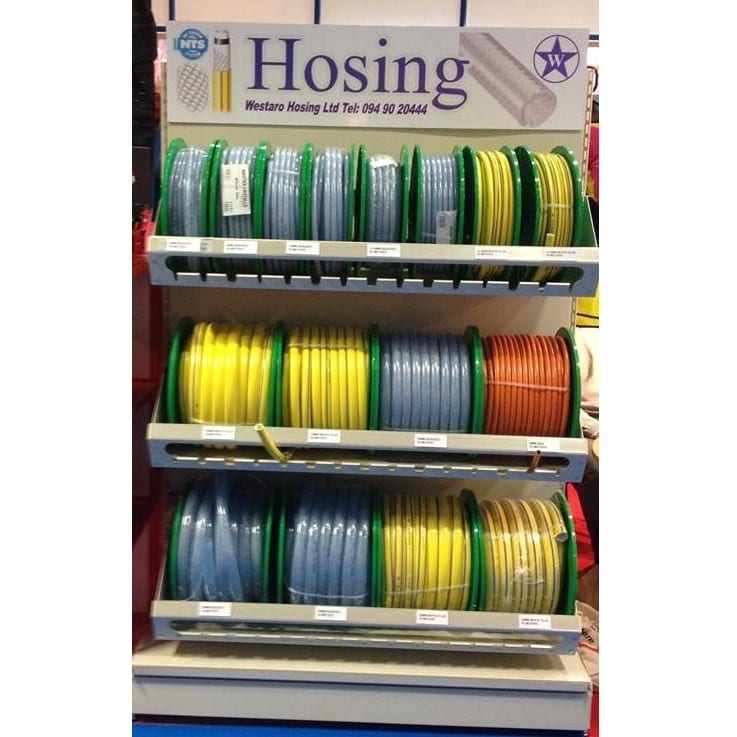 1. NTS White Plus Technology
A special superior flexible hose with a mesh reinforcement preventing kinks,twists and makes it very easy to use.
Sizes: 12.5mm, 19mm,  25mm, 30mm, 38mm.
Bar:     30           24      22          18
Structure: Five layer hose, white enforcement, layer black anti-algae layer, white inner layer and special anti-uv composition to prevent the hose ageing.
User: Suitable for construction, agriculture, wash down hose and in many cases a high quality garden hose.
2. Industrial Technical Hoses 
Clear braided hose
Sizes: 6mm, 8mm, 10mm, 13mm, 19mm, 25mm.
Bar:    20      20      20         12        10       4
Structure: Flexible PVC hose with textile reinforcement.
Uses: Suitable for food liquids passage without pressure in compliance with EU Directive (REG.EU 10/2011 A-B-C-D2) with the KTW guidelines for the contact with drinkable water.
3. Refittex Gas Din 4815
Size: 9mm 
Applicants: Gas delivery hose for house application in compliance with DIN 4815 (German standard).
Structure: Three layers PVC hose with high tenacity polyester textile reinforcement made with waterproof and gas resistance mixture.
Working Temperature: -20°C to 70°C
Important Notice To Retailers & Ens Users:
When using LPG Gas Hose you must get a certified Gas Installer to install Gas Hose.
No responsibility will be taken by supplier for any damages/ costs arising from non certified installation work. This safety notice must be displayed on all Combo Stands.
It is recommended that hoses are sold at 1 Metre lengths.